Boilers are the beating heart of our homes. Providing heating and hot water, boilers play an essential role in our homes. Without them, we're faced with a cold home and cold showers! Our boiler installation guide will help you with every aspect of a boiler installation or replacement.
There are a number of key points to consider when arranging a new boiler installation. Read on to find out more.
Finding the right boiler installation specialist
Paramount to getting a good job, is finding the right boiler installer. There are a number of places to search for qualified heating engineers.
Google
A great way to search for a local boiler engineer is through a quick Google search. Using Google means it's easy to see which companies are closest and how many reviews they have (if any).
The image below shows a quick Google search, the box underneath the map shows local businesses and all the information necessary.
People assume that this box contains ads, which it doesn't. These are Google's local search results and display businesses within the search area. There is no rule of thumb when it comes to choosing a business. But, it's always a good idea to select a company with at least five reviews.
Make sure to read the reviews too! Google is also a great way to check recommendations from friends and family. Any search results will always show relevant information; like phone numbers, email address and opening times.
The Gas Safe Register
All heating engineers have to be registered with Gas Safe by law. The Gas Safe Registers website has a directory of all registered local businesses. This can be used to search for local heating engineers, or check whether someone claiming to be Gas Safe Registered actually is! Although rogue traders have been clamped down on in recent years, it's a good idea to check.
On the image below we can see the homepage of the Gas Safe website. We have three options; find by location, check a business, check an engineer.

A list of locally registered engineers will appear after typing in a town or postcode along with contact details. Furthermore, by clicking 'view our engineers' you can see relevant qualification and pictures of the installers.
A licence or business registration number is required to 'check a business' or 'check an engineer'. Any gas engineer should be able to produce these on request.
A registration number search shows all the relevant information, including phone number and qualifications.
It is always a good idea to check any engineers found on Google or through recommendations. As Google doesn't check business registrations, it's better to be safe than sorry.
Don't forget, using an unregistered gas engineer can invalidate home insurance if anything goes wrong!
Accredited installers
To become an accredited installer, engineers have to go through relevant checks and complete brand-specific training.
A number of manufacturers run accredited installer schemes. One of the most well known, Worcester's accredited installers offer longer guarantees than other installers. Typing your postcode into the 'contact an installer' box will bring up a list of installers local to you.

Accredited installers have been vetted and have had to prove their qualifications and insurances, which is always an added benefit.
What types of boiler are there?
There are three main types of boiler to choose from. So it's important to know which one is better suited to your home.
Combi boilers
A compact single unit, combi boilers are a relatively new innovation. Although they feel like they have been around forever, they only started getting introduced about twenty years ago. Unlike other boilers, combi boilers have the ability to produce heating and hot water hence the name (combination boiler). Making them highly practical for houses short on space.
Because combi boilers provide heating and hot water. They eliminate the need for water tanks, freeing up valuable space.
Although mostly installed in kitchens, combi boilers can be installed almost anywhere, provided the right pipework is available or can be rerouted. Lofts and garages are a great place to put them leaving interior space for other things.
Generally ranging from 25-50kw there are a number of different sizes to suit hot water demand. Most 2-3 bedroom homes with a single bathroom would find a 25-30kw boiler more than adequate. Slightly larger homes with an en-suite would require a bigger boiler.
Occasionally you may find larger combi boilers in smaller homes, usually to take advantage of good water pressure.
Combi boilers require at least nine to ten litres of water per minutes to operate a good level. So, if a property is in an area with poor water pressure a combi may not be suitable. Also, for homes with multiple bathrooms and a large demand for hot water, a combi boiler won't be adequate.
Even larger combi boilers will struggle when hot water is drawn from multiple outlets, so for larger homes, a stored hot water system like an unvented cylinder is a better option.
Due to combi boilers being a single unit, everything inside the boiler is covered under its warranty. Unlike older boilers with external parts (pumps, zone valves etc), in the long run, this can save a lot of money on repairs. Find out more about combi boiler pros and cons.
Regular boilers (heat only)
Working in conjunction with a hot water cylinder, regular boilers heat hot water indirectly through a coil in the cylinder. Meaning, the heating and hot water system is fed by two cold water tanks in the loft, generally called gravity fed systems.
They do have their advantages. Unlike combi boilers, hot water can be drawn from multiple points at once. To improve hot and cold water pressure, pumps can be fitted, although they can be noisy. Also, most cylinders can be heated individually, via the immersion heater. Giving valuable hot water back up if the boiler ever breaks.
Due to the additional pipework needed for combi boilers, it can be more cost-effective to directly replace an old regular boiler with a newer one. Also, directly replacing heat only boilers can mean a lot less disruption.
On the other hand, gravity-fed systems are generally less efficient. Gravity-fed cylinders aren't very well insulated. For instance, have you ever wondered why airing cupboards are so warm? That's the cylinder losing heat. Also, without a pump, hot water pressure can be poor.
Gravity fed systems tend to deteriorate faster, due to aerated water fed from the cold water tanks. Accelerating corrosion.
System boilers
Like regular boilers, system boilers provide hot water indirectly, usually through an unvented cylinder.
Designed to work on sealed systems, system boilers eliminate the need for cold water tanks. Via a filling loop, central heating water has to be topped up manually.
Unlike a regular boiler, many parts are located inside system boilers. Meaning, more parts fall under the manufacturer's warranty.
Better suited for larger homes with multiple bathrooms. System boilers can provide lots of hot water when paired with an unvented cylinder.
Choosing the right boiler
With three main types of boiler to choose from, it's important to find the right one for your home. There are a number of factors to consider when choosing the right boiler.
Hot water output
Aside from heating, a boilers main job is to provide hot water. Choosing a boiler that can cope with your hot water demands is very important. Think about the size of your home and how many people live there.
The table below will give an idea of what boiler is most suitable for your home.
| Combi Boiler | System Boiler with unvented cylinder | Regular Boiler with Gravity Fed Hot Water |
| --- | --- | --- |
| 1 Bathroom + En-suite. | Multiple bathrooms | Multiple bathrooms (low water pressure when not pumped) |
| Small families with young children. | Larger families with older children. | Larger families with older children |
Central Heating Output
Being the main source of heat, it is essential to select a boiler big enough to heat a home. Most combi boilers have a central heating output of 20-25kw, which is big enough to heat most domestic homes.
But, some larger houses with more than fifteen radiators may need a larger output. Extremely large homes may even need two boilers! Regular and system boilers can be smaller as they don't have to deal with instant hot water demand.
Available space
In most homes, space is at a premium. Many houses don't have the space to accommodate a boiler and a cylinder. And, if they already have one, would benefit from freeing up space. The additional space created by removing cylinders can lead to more storage, or even bigger bedrooms or bathrooms. In these cases, a combi boiler would be the best option. Provided there is adequate water pressure.
With bigger houses, unsuitable for combi boilers, a cylinder may be the only option.
When upgrading a gravity-fed system to an unvented system, relocating the cylinder or boiler to a garage or a loft can create extra space.
Cost of installation
Boiler replacement costs can vary, depending on the existing boiler. Switching your existing boiler for one of the same type can save time and money. But may not always be the best option.
When considering a new boiler installation it is important to take into account your existing central heating system. What boiler you currently have, and what boiler you want, can play a large factor in the cost of installation.
A direct replacement always works out cheaper. Upgrading gravity fed systems to a combi or an unvented system can add quite a lot of money.
Boilers can range from £500 to nearly £2000 for a large combi. The table below will give an idea of expected labour costs.
| Straight swap | Heat only to combi | Heat only to unvented cylinder with system boiler |
| --- | --- | --- |
| £500-£800 | £1,000-£1,500 | £1,500-£2,000 |
Additional Boiler Installation Expenses
When getting a new boiler installation, there are a few additional expenses that need to be considered.
Filters
Installed to protect boilers from sludge. Magnetic filters help protect boilers by stopping debris and sludge from entering the boiler. Sludge can shorten the life of a boiler by blocking up essential components.
Expect to pay around £60-£140 for a magnetic filter. When their own brand filter is installed, most manufacturers offer additional warranty
Controls
Controls are an essential part of a heating system. Giving the ability to increase and decrease temperature. Since April 2018, it has been legislation for all new boilers to be installed with time and temperature controls.
Controls can range from £60 for cheaper models to around £200 for smart thermostats like Nests and Hives.
Gas Pipe
Most modern boiler installations need a larger 22mm gas supply than their older equivalents. This may mean that a new gas pipe may need to be installed. The cost of a new gas supply will vary depending on the distance. But, expect to pay around £20-£40 per meter.
System flush
Older systems may require a flush, which cleans out all the existing pipework and raditors. There are two types of flush, a chemical flush and a power flush. Chemical flushes involve circulating cleaning chemicals around the existing system with hot water. Power flushes use a machine to pump water and chemicals round. After the flush, the chemicals are drained along with any sludge and the system refilled with clean water and inhibitor.
Expect an additional cost of around £100 for a chemical flush and up to £300 for a power flush.
Thermostatic valves
According to building regulations, all new and modified central heating systems must have thermostatic valves fitted. Expect to pay around £40-£60 per valve fitted.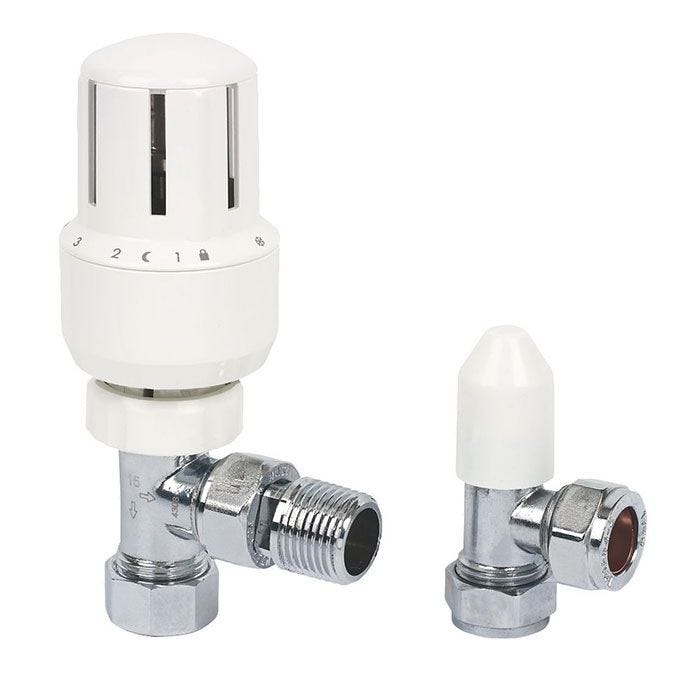 Which boiler brand to choose
There are many different boiler brands to choose from. Available to suit a variety of budgets. Heres a few that we recommend.
Worcester Bosch
Possibly the best-known brand in the UK. Worcester Bosch offers a range of high-quality boilers with fantastic guarantees. Although not cheap, they are highly reliable and have possibly the strongest guarantee. Backing this up is the largest call centre of any manufacturer and the largest network of service and repair engineers. Worcester's controls are also covered under the guarantee, which is an added bonus.
Vaillant
Vaillant are a high-quality manufacturer, with an extensive range of boilers. The offer good warranties and in recent years have added more budget-friendly boilers to their range.
Ideal
A solid mid-range brand, Ideal offers good value for money along with extended warranties. Along with a wide range of boilers to suit most budgets. Their reputation was damaged in recent years with the Ideal Isar. But, they have been rebuilding the brand with great success and are popular among installers.
Baxi
Another well-known brand. Baxi can trace its history back to 1866. To mark its 100 year anniversary Baxi launched one of its most successful boilers the 'Baxi Bermuda' in 1966.
All of its boilers are high quality and offer extended warranties of up to ten years.
Vokera
Vokera offers a wide range of budget-friendly boilers. They have a great customer service team and a good network of repair engineers.
Summary
We hope our boiler installation guide has been helpful. If you need help or advice, get in touch via email on info@heatingbritain.com.
And, don't forget to always use a Gas Safe Registered Engineer!