Looking for a new combi boiler installation can be difficult. There are so many companies to choose from. Prices vary wildly so much, some don't even make sense. What boiler manufacturer is best? Why do different companies recommend different boilers? How much should a combi boiler installation cost? There are so many decisions to make and questions to answer.
Since the introduction of combi boilers, most households in the UK have changed their older style boilers to combi boilers because of all the added benefits.
The cost of condensing combi boiler installations can vary, depending on the size of a property and the existing system.
Factors that will affect the price
Boiler make and model
Possibly the biggest factor, the make and model can add a few hundred, or even a thousand pounds onto the top of the installation costs. Always try to get a good boiler, with a good warranty where possible. It will always pay for itself in the long run.
Boiler location
If the boiler is located in a place without an adequate 22mm gas supply a new one will need to be installed which can add a few hundred pounds to the installation. Also, if you're moving the location of the boiler, expect to pay more.
Boiler size
Bigger boilers cost more, a small boiler for a terraced or small semi can cost between £600-£1,000. But a larger boiler for a detached house can cost up to £1,800.
Water quality
Older systems tend to have a lot of sludge so in some cases may need a power flush or chemical flush. Sludge can drastically reduce the life of a new boiler so it's important to get it out. Most engineers do a chemical flush as standard. But, if the system is really bad it may need a power flush, which can add a few hundred pounds to the price.
Conversion or combi swap?
Converting a traditional system with a hot water tank will always cost more than just replacing an existing combi. Although expensive, converting the system does offer a lot of benefits in the long run.
How much should a combi boiler installation cost?
Direct replacement (combi – combi)
If you already have a combi boiler installed in your house, you're in luck. You've just saved up to a thousand pounds.
Generally, direct combi boiler replacements are quick and straightforward jobs. Unless, the gas pipe is too small, which might add a few hundred pounds. Depending on the distance.
Combi boiler replacements (including installation) can cost from £1,200 for your budget models. Up to £3,000 for a top of the range Worcester Bosch. A combi swap should take around a day. Sometimes running over into the next day, if there is a large gas run that needs installing.
Example Prices
All example prices are based on a direct combi replacement with no gas run. Prices may vary, depending on where you live. All factor in magnetic filters and digital thermostats.
Vokera Maxim 29kw  (5 Year Warranty) – £1,250
Ideal Logic 30kw (7 Year Warranty) – £1,800
Worcester 30kw Life (Up to 12 Year Warranty) – £2,300
System conversion (regular – combi)
System conversions will cost more due to the additional work involved. Which includes, removing the existing boiler, cylinder and feed tanks in the loft.
The pump will need locating and removing. And, the pipework reconfiguring to make it work with a sealed combi system.
Converting the system should cost between £2,000 for a cheaper boiler and up to around £3,500 for a high end one.
Example Prices
Prices are based on a regular boiler to combi boiler conversion. Factoring in magnetic filters and digital room stats.
Vokera Maxim 29kw  (5 Year Warranty) – £2,000
Ideal Logic 30kw (7 Year Warranty) – £2,550
Worcester 30kw Life (Up to 12 Year Warranty) – £2,900
Why do all my quotes vary so much?
We always recommend getting a few quotes so you can cross-reference them and see the differences. It's important to look at the quotes in great detail, as some may include things that others don't. Like magnetic filters, or digital thermostats.
In most cases, you will find smaller companies are cheaper, as they have smaller overheads. Some may not even be VAT registered, so that's an instant saving of 20%. We find most people like supporting small local businesses which is great. The only problem can be getting hold of them in busy periods.
For that reason, some people turn to bigger companies like British Gas but pay a huge premium. Most quotes from larger companies will be at least £1,000-£1,500 more than their smaller competitors.
In recent years there has been an influx of new online boiler installation companies. These companies offer very competitive pricing and next-day installation. By answering questions on their website, quotes are generated automatically. Then confirmed by sending them photos of your current boiler and its location.
These companies offer a good option if you need a new boiler ASAP. All of their installers are sub-contracted engineers so the quality of installation can vary. Also, there is a chance that there could be aspects of the installation that are missed only to be found on the day. Stopping the job in its tracks or adding additional costs.
Why do different companies recommend different combi boilers?
Most gas engineers have a prefered brand of boiler they like to install. Some engineers will outright refuse to install any other boiler! In most cases, this is because it's the brand they're most familiar with. And, they might be part of a scheme where they get rewards for the number of boilers they install.
Figuring out how an unfamiliar boiler is installed can add an hour or two to a job. Which no engineer wants.
Take into account the opinions of all the engineers/companies, then do your own research on the boilers they recommend. Don't let anyone force you into having a boiler you don't want! It's your house and your money! Just because an engineer recommends a certain boiler doesn't mean it's the best for you.
Choosing the right boiler for you
Like any large purchase, it's important to do your research and ensure you're not spending money where you don't need to.
We do always encourage people to get the best boiler they can afford. But, in some cases, this might not be the best option. Some people can't afford a top of the range boiler. So have to go for a cheaper option.
Not all cheaper boilers are necessarily bad. We come across budget boilers that have lasted way over the average lifespan of a combi boiler (13 years).
Vokera is always a good choice when someone can't afford a higher-end boiler. In my own heating company, they have become the boiler of choice for low-income households and landlords. The compact range offers a five-year warranty and is very reasonably priced at around £600 for the boiler and a clock.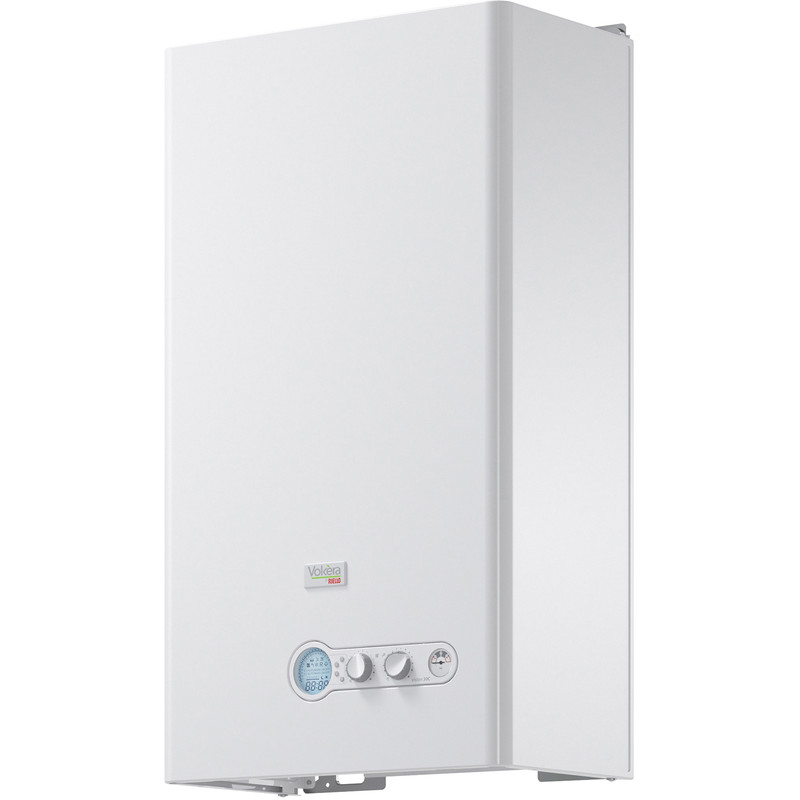 We always recommend installing cheaper boilers if you're considering selling your house in the near future. Most potential buyers won't be paying any attention to what brand of boiler is installed. As long as its a new combi, they'll be happy. And, it gives you the opportunity to save yourself a few hundred pounds to spend on your new home. Or a weekend away!
Some cheaper boiler manufacturers can be awkward when it comes to honouring the warranty. They can look for small problems with the installation and use them to invalidate the warranty. Exercise caution if someone is offering you a budget boiler with a very long warranty. The chances of them honouring it are slim. This happens much less often with premium brands.
Worcester's guarantee
Worcester Bosch isn't the UK's most reputable brand for no reason. As well as being extremely reliable. Worcester boilers come with a guarantee, not a warranty.
Meaning they guarantee they will fix the boiler for the duration of the guarantee. Instead of looking for ways out of it like some other boiler manufacturers. The only have one small rule. A three-strike rule, if a boiler breaks down due to poor water quality they will fix it but advise to get the system cleaned. If the system isn't cleaned and the poor water quality causes the boiler to break, they will charge you for the repair on the third time.
Poor water quality causes 90% of boiler faults. Most manufacturers will invalidate a warranty instantly if they find poor water quality has caused the boiler to break.
What size boiler do I need?
Hot water
Boiler sizing is a crucial aspect of getting the correct boiler for your home. The flow rate of your water should always be checked to ensure its adequate. Also, if you have a high water flow rate it's beneficial to match the combi boiler's hot water output where possible. So, if your property gets 15 litres per minute, get a boiler that can generate around 15 litres per minute in hot water. Ensuring you will get the best showers you possibly can.
The table below demonstrates boiler kilowattage and the types of property they are suitable for.
| Boiler Size | Suitable Property Size |
| --- | --- |
| 25-30kW | 2-3 bedrooms - 1 bathroom |
| 35-40kW | 3-4 bedrooms - 1 bathroom & ensuite |
| 45-50kW | 4+ bedrooms - 1 bathroom 2+ ensuites |
When it comes to properties with a few bathrooms and large hot water demand, combi boilers aren't really suitable. Even the biggest combi boilers will struggle to provide enough hot water for two showers at once. In this case, an unvented cylinder or storage combi may be a better option, provided there is space. Unvented cylinders give a vast amount of hot water and along with the system boiler to run them, don't cost much more than a 45-50kw combi boiler.
Heating
Most combi boilers provide at least 20kw of heating, which is more than adequate for the majority of domestic properties. Only large properties with 12+ radiators will need a higher heating output, but in most cases, they will have a larger boiler to accommodate the hot water demand anyway. To calculate heating requirements, use an average of 1.5 kw per radiator. But, your heating engineer should do this when quoting for the job anyway.
Summary: Combi Boiler Installation Cost (2020)
We hope this post has given you some idea on what costs to expect when getting a new combi boiler installation. If you have any questions or think we have missed anything, don't hesitate to get in touch – info@heatingbritain.com